CHRISTINE LOUISE APPENFELLER JOHNSON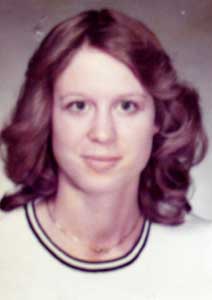 CLASS OF 1977
APRIL 27, 1959 - JUNE 4, 1998
Graveside services were held Sunday for Christine Louise Johnson, Tucson, AZ, in Osawatomie Cemetery.
The former Osawatomie resident died Thursday, June 4, 1998 in the family home in Osawatomie. She was 39.
The daughter of Dr. William Oscar and Rita Madeline Hogan Appenfeller, she was born April 27, 1959 in Osawatomie. she attended Osawatomie schools and was a 1977 graduate of Osawatomie High School. she attended the University of Kansas and received a bachelor of arts degree in 1981.
After graduation she moved to Arizona to make her home. She ws married to Charles V. Johnson Sept. 19, 1982 in Phoenix. They became the parents of a son and a daughter.
They made their home in Phoenix iand Tuscon and worked together in their insurance agency.
Mrs. Johnson was very artistic, loved to paint and create greeting cards.
She was a member of the Church of God in Tucson.
Preceding her in death were her mother in September 1991 and her father in December 1997.
Survivors include her husband, Charles; a son, Ryan William, 14, and a daughter Kelsey Louise, 10 months, all of the home in Tuscon; two brothers, Dr. Rex Appenfeller, Providence, R.I., and Dr. Greg Appenfeller, Leawood.
Pastor John Orchid officiated. Arrangements were card for by Eddy-Birchard Funeral Home.
A memorial has been establilshed in her name to the American Cancer Society.