PAT AKERS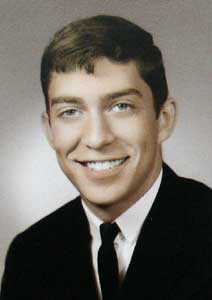 CLASS OF 1965
APRIL 21, 1947 - NOVEMBER 25, 2002
Lawrence Patrick Akers, 55, Des Peres, MO, a former Osawatomie resident, died unexpectedly of a massive heart attach on November 25, 2002.
More commonly known as Pat, he was born April 21, 1947 in Paola, the son of Lawrence and Doris Stein Akers.
He was raised in Osawatomie, attended St. Philip Neri School and graduated from Osawatomie High School in 1965. He graduated in 1969 from Emporia State University with a degree in business. He served as president of Sigma Tau Gamma Fraternity for two years.
After he graduated, Mr. Akers went to work for Southwestern Bell in Springfield, Cape Girardeau, Hannibal and St. Louis, all in Missouri. He was district manager for Kansas, Missouri, Nebraska and Iowa before retiring Dec. 15, 1995. He later started a financial planning business and worked part time. He married Jan Heidi and they became the parents of one son, Josh. The marriage ended in divorce. He and his wife, Patricia, were married in 1987.
His hobbies included traveling, fishing and gardening. He especially liked planting a pumpkin patch every year for neighbor children and his step-grandchildren. He also planted tomatoes and shared his harvest with others. He enjoyed spending time with family and friends.
His father preceded him in death.
Surviving are his wife, Patricia Akers of the home; his son, Josh Akers of Memphis, TN; his mother, Doris Akers of Osawatomie; three sisters, Mary Ann Stewart and Joan Koup, both of Osawatomie, and Kathy Newman of Paola; and three step- grandchildren.
A funeral Mass was held at St. Girard Majella Catholic Church in Kirkwood, MO. Burial was in Resurrection Cemetery in Kirkwood. Pallbearers were David Stewart, Bob Zak, Clayton Zak, Taylor Zak, Ken Butler and David Lange.