KAREN ALBERTY MASON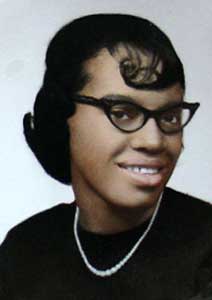 CLASS OF 1964
SEPTEMBER 29, 1946 - MAY 1967
Services were held at 2:30 p.m. Wednesday at the Birchard Funeral Home for Karen Inez Alberty Mason.
She was born Sept. 29, 1946 in Osawatomie. She attended local schools, graduating from Osawatomie High in 1964. She was a member of the Ebenezer Baptist Church.
Survivors include her huband, William Mason; two daughters, Carmen and Carol; her mother, Mrs. Ardella Carter; a step-father, Snada Carter; and three sisters, Mrs. Alfreda Whitaker, Kansas City, Mo., Evelyn Smith and Edna Alberty, both of Osawatomie; two brothers, Austin Alberty, Los Angeles, Calif., and Edmund Alberty, Osawatomie; and three aunts and an uncle.
The Rev. Floyd Guliford officiated at the services. Music was provided by the Ebenezer Baptist Church choir, accompanied by Mrs. Nelson Cowden.
Pallbearers were Russell Berry, Claude Williams, Shedrick Cunningham, Rodney Cunningham, Kenneth Hinton and Olan Harris.
Burial was in the Osawatomie Cemetery.
(From the Osawatomie Graphic-News 5-11-67)