EDMOND LEROY ALBERTY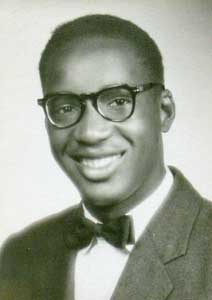 CLASS OF 1960
MAY 14, 1942 - AUGUST 16, 2004
Edmond Leroy Alberty, 62, lifetime Osawatomie resident, died Monday, Aug. 16, 2004, in Osawatomie.
He was born May 14, 1942, in Osawatomie, the son of Frank and Ardella Smith Fitzpatrick. He grew up in Osawatomie, where he attended school, graduating from Osawatomie High School in 1960. He was well-known in high school for his outstanding athletic abilities, especially in basketball.
He was married to Valorie Kay Brady Spears on May 13, 1977, in Paola. They made their home in Osawatomie and became the parents of three children. She preceded him in death Aug. 5, 1994.
Mr. Alberty worked in nursing homes as a nurse's aide for several years before becoming disabled.
He was a member of the Ebenezer Baptist Church in Osawatomie. He sang in the church choir for several years.
His main hobby was fishing. He enjoyed the time he spent fishing and especially enjoyed the time he spent with his family.
Others preceding him in death were his parents and two sisters, Evelyn Smith and Karen Mason.
Surviving are his three sons, James Wardell Quarry of Olathe, Edward Jason Alberty of Raytown, Mo., and Brian Michael Alberty of Osawatomie; his daughter, Grandee Nicole Alberty of Raytown; a brother, Austin Alberty of California; two sisters, Alfreda Whitaker of Kansas City, Mo., and Edna Preston of Topeka; and 17 grandchildren.
Graveside services were Monday, Aug. 23rd, at the Osawatomie Cemetery under the direction of Eddy-Birchard Funeral Home of Osawatomie. Pallbearers were Derick Shelby, Keith Shelby, Cecil Preston, Bernard Preston, Kevin Harris and Phillip White.
Memorials may be made to the church.