MARY JO ASMUS HOLLOMAN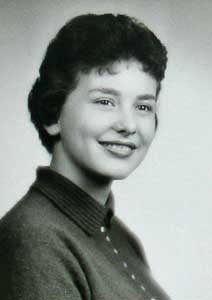 CLASS OF 1959
Sept., 20, 1941 - July 19, 1984
Services for Mary Jo Holloman, 604 Harold, Olathe, were held Saturday in Eddy-Birchard Funeral Home. Mrs. Holloman, 42, died at her home Thursday (July 19, 1984).
She was born Sept. 20, 1941, in Hastings, Neb., the daughter of Maurice and Lucille Partridge Asmus. She grew up in Osawatomie and graduated from Osawatomie High School in 1959.
She married Donald Eugene Holloman May 15, 1959, in Osawatomie. They were parents of two children.
Mrs. Holloman worked as a receptionist in law offices. She was a member of the First United Methodist Church of Olathe.
Survivors include her husband, Donald, of the home; a daughter, Vicky Pittman, Rochester, N.Y.; a son, Jeff Holloman, of the home; her mother, Lucille Asmus, Olathe; a sister, Janice Uttecht, Norfolk, Neb.; and one granddaughter.
A memorial was established in her name to the American Cancer Society.