CAROL ANN AUSTIN HOLLOMAN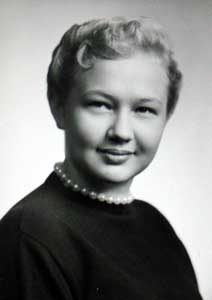 CLASS OF 1957
FEBRUARY 4, 1940 - APRIL 30, 2014
Carol Ann Holloman, age 74, of Hamilton, Ohio passed away on Wednesday April 30, 2014 at Ft. Hamilton Hospital.
She was born on February 4, 1940 in Kansas City, Missouri the daughter of George Arnold and Nella Lucille (Barr) Austin. She graduated from Osawatomie, Kansas High School with the Class of 1957.
On May 16, 1957 in Miami, Oklahoma she married Virgil M. Holloman.
She is survived by her husband Virgil; her daughters Deanna (Thomas) Murphy, Lisa (Fiance Steve Kuntz) Lowe and Laurie (Dale) Howard; eight grandchildren Katy Bishop, Tomi Murphy, Jake Lowe, Aubrey Eckerlin, Aris Kuntz, Brenan Kuntz, Mickey Coons and Trey Howard and six great-grandchildren; brother Jerry Austin; also many other relatives and friends.
She was preceded in death by her parents and grandson Michael Murphy.
Carol gave the gift of sight, due to her Cornea Donation.
Funeral Services will be Saturday May 3, 2014 at 3:00 p.m. at the Paul R. Young Funeral Home 3950 Pleasant Ave., Hamilton. Cremation will be held. Visitation will be Saturday from 1:00 p.m. until time of services at the funeral home.