VINCENT ALEXANDER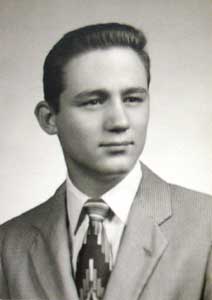 CLASS OF 1956
SEPTEMBER 25, 1936 - MARCH 29, 2003
Vincent Alexander, 66, a former Osawatomie resident, died March 29, 2003, in a Topeka care facility.
He was born September 25, 1936 in Salina, the son of Earl R. and Juanita P. Tice Alexander. He graduated in 1956 from Osawatomie High School. He had lived in Topeka since 1964.
He served in the U.S. Air Force for eight years and later in the Kansas Air National Guard.
He married Janie L. Rhodes June 6, 1959, in DeFuniak Springs, FL.
Mr. Alexander was employed by DuPont until taking early retirement in the mid 1980s. He later worked for the state as a firefighter at Forbes Field until retiring in December 2002.
He was a member of the Masonic Lodge and Capitol Post No. 1 of the American Legion. He was a volunteer for the Topeka-Tecumseh Township Fire Department. He was a Baptist.
Surviving are his wife, Janie Alexander; a son, Thomas L. Alexander of Topeka; a daughter, Teresa E. Fulton of Berryton, KS; his mother Juanita P. Iams and a sister, Vicki Berberich, both of Osage City, KS; two stepbrothers, Frank Iams of Kansas City, KS and Gary Iams of Topeka; and five grandchildren.
Services were at Penwell-Gabel Highland Chapel in Topeka. Burial with military honors was in the Topeka Cemetery.
Memorials were made to Highland Park Baptist Church and to the Terry C. Johnson Center for Basic Cancer Research.