MARYLN AUSTIN LEHMAN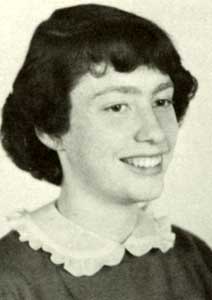 CLASS OF 1953
AUGUST 10, 1935 - JANUARY 11, 2000
Marilyn Austin Lehman, 65, Osawatomie, died Tuesday afternoon, Jan. 11, 2000 at the Ottawa Retirement Village Nursing Home in Ottawa.
She was born Aug. 10, 1935, at Morrilton, Ark., to Franklin Houston and Permelia Carson Austin.
She graduated from Osawatomie High School in 1953 and from the University of Kansas in 1957 with a bachelor of arts degree in fine arts. She attended the masters of fine arts program at Alfred University in New York. She was a member of the Sigma Kappa sorority at KU.
She was known as a very gifted person in making pottery and painting.
She was married to Gary M. Lehman of Newton, Kan., in August 1960 at Emporia. They lived in Goodland, Kan., and Kansas City., Mo. They had no children. He preceded her in death.
Mrs. Lehman worked at Osawatomie State Hospital as a vocational rehabilitation counselor.
Others preceding her in death were her parents. Survivors include her brother, Franklin H. Austin, Jr., of Ottawa; three nieces, a nephew and a great-niece and great-nephews.
Services were at 1:30 pm Saturday at Eddy-Birchard Funeral Home in Osawatomie. Honorary pallbearers were Wayne Brooks, Pat Tenpenny, Larry White, Joe Churchill, Royce Bray, Wes Cole, Joe Bachman, Bill Coffelt, Walta Frye, Starla Medlin and John Clark. Burial was at 2 pm Sunday at the Yukon Cemetery at Yukon, Okla.
Memorials have been established in her name to the Osawatomie High School Alumni Scholarship Fund and may be sent to the funeral home.