ALVIN LEWIS ARNER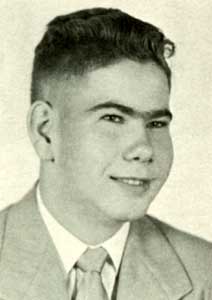 CLASS OF 1953
FEBRUARY 4, 1936 - MARCH 25, 1984
ROYAL OAK, Mich. - Services for Alvin Lewis Arner, 48, of Birmingham, were held here Wednesday in Vasu, Rodgers & Conell Funeral Home. Mr. Arner died unexpectedly Sunday, March 25th, 1984, in the Cleveland Clinic Cleveland, OH.
Born Feb. 4, 1936 in Lane, KS, he was the son of Rick and Stella Bradshaw Arner. The family moved to Osawatomie, KS where he attended school, graduating in 1953 from Osawatomie High School. He graduated from Pittsburg State University in 1956.
Mr. Arner retired as a computer specialist for the Internal Revenue Service in 1982 after 25 years of service. He had been in ill health for more that two years.
He married Ann Dulas May 9, 1970 in Detroit. He lived in Dearborn before moving to Birmingham 14 years ago.
Among his survivors are his wife, Ann, and two children, A. Edward Arner and Helen E. Arner, all of the home; his mother Stella Arner, Osawatomie; and a sister, Leah F. Arner, Denver, CO.
Burial was in Holy Sepulchre Cemetery, Southfield, MI. A memorial has been established in his name to the Cleveland Foundation. Contributions may be sent in care of Dr. G. Rincon Research, 9500 Euclid, Cleveland, OH 44106.