DOLORES JEAN AYERS PIERCE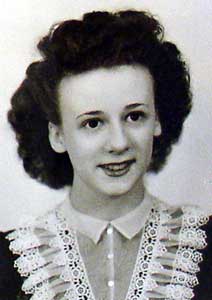 CLASS OF 1945
NOVEMBER 8, 1927 - JULY 4, 2002
Dolores Jean Ayers Pierce, 74, Lakewood,CO, an Osawatomie native, died July 4, 2002 in the Lutheran Medical Center in Wheat Ridge, CO.
She was born November 8, 1927, in Osawatomie, the only child of Ross Vincent and Violet Pearl Elrod Ayers. She grew up in Osawatomie, attended Osawatomie High School and graduated with the Class of 1945. She also attended Park College.
She had worked in the J.C. Penney Store, Wicke-Hurst Drug Store and American State Bank, all in Osawatomie, during summers. She was active in many organizations in Osawatomie, including the International Order of Job's Daughters, Sub-Debs and OsawatomieChapter No. 26 of the Order of the Eastern Star, where she had earned her 55-year pin. She also attended the United Methodist Church of Osawatomie, then known as the Osawatomie Methodist Episcopal Church.
Mrs. Pierce worked with Girl Scouts in St. Louis, MO and in Denver and Lakewood, CO. and Job's Daughters. She was an active member of many other organizations.
During her working years she worked as a reported, secretary, accountant and in the grade school cafeteria. She has authored a number of papers, poems, grade school plays and a book about her great-grandfather, The Rev. Samue lAyers, who was the first elected Kansas representative from Linn County. A book she authored about her husband's ship, the USS Waller DD No. 466 is in the Osawatomie Public Library, the Library of Congress in Washington, D.C., Washburn University Library in Topeka and the Arizona Memorial Library at Pearl Harbor in Hawaii.
Preceding her in death was her only daughter, Carol, who died July 8, 1999.
Survivors include her husband, William Pierce, of the home.
Services were in Osawatomie Cemetery under the direction of Eddy-Birchard Funeral Home.