JOYCE ANN ATTEBERRY BUSSELL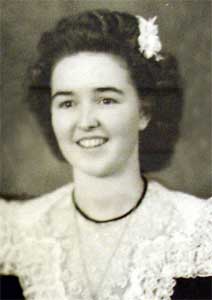 CLASS OF 1944
OCTOBER 24, 1926 - MARCH 12, 2015
Joyce Ann Bussell passed away Thursday March 12th. She was born October 24, 1926 in Eudora Kansas. She is survived by 3 children, Gary Bussell, his wife Deb, Audrey Gail Foye, Ernie Bussell and his wife Elizabeth, 7 grandchildren and 14 great grandchildren.
Joyce enjoyed sewing, swimming, fishing, and clothes shopping. She attended Baker University during the war with interests in becoming a physical therapist to help returning veterans. Priorities changed as her high school sweetheart returned from the war and were married and started a family. She attended JCCC and earned her AA as a paralegal and worked for Johnson County courthouse until she retired.
She continued her volunteer work with her husband helping veterans sewing blankets and preparing baked treats for disabled veterans at the local VA.
Joyce had a caring heart and was the primary caregiver for her aging parents for a number of years and during her husband's illness. She was a devout Christian her entire life and her example of love and caring for others and her faith will be her legacy to her family and friends. She will be deeply missed but we hold the hope promised by our Heavenly Father that we will see her again. Joyce will be cremated and buried at Leavenworth National Cemetery with her husband, a WWII veteran, who preceded her in death in 2006.