MARY LOUISE ALFORD BROWN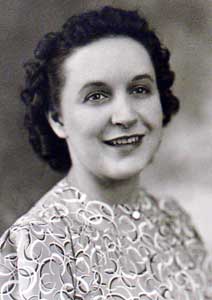 CLASS OF 1940
FEBRUARY 11, 1921 - NOVEMBER 25, 2002
Mary Louise Brown, 81, a native of Osawatomie, died November 25, 2002 at a nursing home in Topeka.
She was born February 11, 1921, in Osawatomie to Charles Wilson and Ella Blanch Hamm Alford. She spent her early life in Osawatomie, attended Osawatomie High School and graduated with the Class of 1940.
She married Raymond High-Wolf. This marriage ended in divorce. She married William A. Brown in 1958 in Topeka. He died in 1975.
Mrs. Brown was a licensed mental health technician and worked at Osawatomie State Hospital. She later was a cottage parent in the adolescent care unit at Topeka State Hospital. She worked in hospitals for 35 years before retiring in 1988.
She was a member of the Oakland United Methodist Church and American Business Women's Association. She was active in the Moose Lodge in Topeka and amateur ballroom dancing circles.
A son, Charles Wolf, of Topeka, survives.
Cremation. Arrangements for memorial services were cared for by Newcomer Family Funeral Home in Topeka.