ROBERT A. ARRINGTON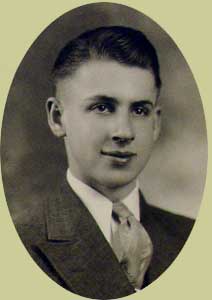 CLASS OF 1938
JULY 20, 1920 - JULY 24, 2001
Robert A. Arrington, 81, Plymouth, Mich., a former resident of the Osawatomie area, died Tuesday, July 24, 2001, in Ann Arbor, Mich.
He was born July 20, 1920, in Mansfield, Mo., the son of Alfie and Bessie Arrington. He was a 1938 graduate of Osawatomie High School.
He was married to Bonnie Showman of Osawatomie.
He served in the U. S. Marine Corps during World War II in the South Pacific.
He attended Kansas City School of Watchmaking and Rutgers University. He was a professional watchmaker and jeweler prior to joining Ford Motor Co., where he retired with 32 years of service.
Mr. Arrington had lived in Plymouth for 36 years. Before that, he lived in Kansas, Missouri, New Jersey and New York.
He was a member of the Memorial Church of Christ in Livonia, Mich.
Surviving are his wife, Bonnie Arrington of the home; a daughter, Deborah McLaughlin of Plymouth, and a sister Ruby Oshel of Overland Park.
Services were July 26 at Schrader-Howell Funeral Home in Plymouth. Burial was in Glen Eden Memorial Park Cemetery in Livonia.