RUSSELL ALCORN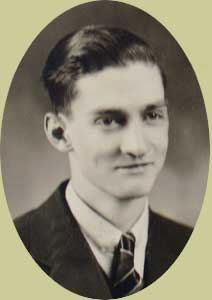 CLASS OF 1937
MARCH 20, 1918 - MARCH 21, 1994
Concordia - - -Services for B. Russell Alcorn, Concordia, are set for 10 a.m. Thursday in Chaput-Buoy Funeral Home.
Mr. Alcorn, 76, died Monday, March 21, 1994, in St. Joseph Hospital.
He was born March 20, 1918, in Westphalia and his parents were Benjiman F. and Evelyn M. Cook Alcorn. He was a 1937 graduate of Osawatomie High School and later attended LaSalle University in Chicago, studying accounting.
In 1941, he moved from Osawatomie to Concordia where he was employed as fiscal officer with the Cloud County Welfare Department. Later, when the department became the Social and Rehabilitation Services of Kansas, he became an income maintenance officer. He retired in 1980 with 39 years of service.
Hd and Della L. Wheeler were married Aug. 14, 1940, in Kansas City, Mo. She died Feb. 8, 1990.
Mr. Alcorn was a member of the Trinity United Methodist Church and a charter member of the Cloud County Historical Society, both in Concordia.
Survivors include a duaghter, Betty L. Musick, Concordia; two sons, Ben Alcorn, Wichita, and Marion Alcorn, College Station, Texas; 11 grandchildren; and seven great-grandchildren.
The Rev. Bill Eisele will officate. Burial of the cremains will be held at 10 a.m. Friday in Pleasant Hill Cemetery.
Memorials have been established in his name to Cloud County Home Health and St. Joseph Hospital.