GWYNNETH HARLENE ALLMAN McDOWELL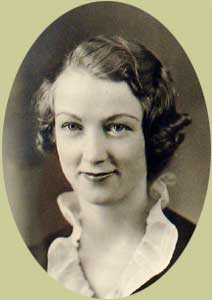 CLASS OF 1936
DECEMBER 2, 1917 - SEPTEMBER 29, 1990
Gwynneth Harlene McDowell, 72, well-known Osawatomie resident, died Saturday, Sept. 29, 1990, at the Humana Hospital of Overland Park.
She was born Dec. 2, 1917, in Foster, Mo., the oldest child of Verne Carpenter and Mattie Elizabeth Penny Allman. The family moved to Osawatomie when she was a small child. She graduated from the Osawatomie High School as valedictorian of the Class of 1936.
She was married March 27, 1937, in Olathe to Leo Birtrand McDowell. He worked for the Missouri Pacific Railroad. They lived in Paola for a short time and then lived in Chanute, Kan., Pueblo, Colo., and Hoisington, Kan., before moving to Osawatomie in 1940. They became the parents of four children. Mr. McDowell died June 30, 1968.
Mrs. McDowell began working at the Osawatomie State Hospital on Feb. 1, 1955 as secretary to the superintendent. She served under several doctors and then Russell Mills. She was later promoted to assistant to the superintendent. She retired on Dec. 1, 1982.
She was a member of the First United Methodist Church and the United Methodist Women's Association. She was a past worthy matron of the Osawatomie Chapter No. 26 of the Order of the Eastern Star. She was a member of the Delta Epsilon Sorority and National Association of Retired and Veteran Railway Employees.
Mrs. McDowell was a past president of the Miami County Hospital Auxiliary and was a former member of the Harmony HDU. She had been a member of the Osawatomie Library Board since 1966 and had served as secretary in 1989 and was serving as president at the time of her death.
Others preceding her in death were her parents and an infant sister, Margaret.
She is survived by her two sons, Richard McDowell of Albuquerque, N.M.., and Leo B. McDowell of Misawa, Japan; two daughters, Sharon Woodford of Valencia, Calif., and Gloria Dunham of Junction City, Kan.; 11 grandchildren; and four great-grandchildren.
The services were at 10:30 a.m. Wednesday at the First United Methodist Church at Osawatomie. The Rev. Ted Hunter officiated. Music was provided by Eva Whetstone, organist, and the congregation.
The burial was in the Osawatomie Cemetery. Serving as the pallbearers were Glenn Ricketts, Clifford Stephens, Ernest Swenson, Howard Goodeyon, Gary Burgoon and I. H. McMahon.
Memorials have been established in her name to the church.