MARGARET A. AYERS STEPHENS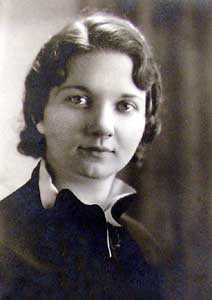 CLASS OF 1935
DECEMBER 10, 1915 - DECEMBER 14, 1988
KANSAS CITY, MO. - -- Services for Margaret A. Ayers Stephens, Kansas City, MO, were held Monday in Newcomer's Floral Hills Chapel.
Mrs. Stephens, 73, died Wednesday, Dec. 14, 1988, in Trinity Lutheran Hospital.
A native of Birmingham, Ala., she had lived in the Kanss City area most of her life. She graduated from Osawatomie High School in 1935. She and Delmar Poole were married in 1938 and they were later divorced. In 1954, she married Charles Stamps and he died in 1965. She and Virgil E. Stephens were married in 1979 and he died in February 1983.
She worked for Jones Store Co. and then was a bookkeeper for Putschs on the Plaza for 18 years retiring in 1979.
Mrs. Stephens was a Baptist. She also held memberships in the Order of Eastern Star and the White Shrine of Jerusaleum Auxiliary.
A sister also perceded her in death.
Survivors include a stepson, Doran Stephens, Osawatomie, KS; three stepgrandchildren; and four step-great-grandchildren.
Burial was in Floral Hillls Cemetery.