RAYMOND RICHARD ANNIS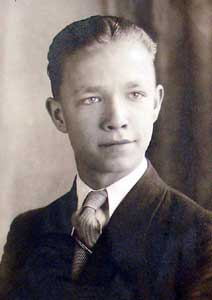 CLASS OF 1935
JANUARY 22, 1918 - FEBRUARY 4, 2001
Raymond Richard Annis, 83, of Huntington Beach, CA, a plumber, died February 4, 2001 of natural causes.
He was born January 22, 1918 in Osawatmie, KS, son of John Weslie and Grace Cardhuff Annis.
He graduated from Osawatomie High School with the Class of 1935. He married Patricia A. Hughes of Portland, OR, on March 14, 1941.
He is survived by daughter, Connie Gosnell, one grandchild, one great-grandchild, and sisters Nellie Boline and Ilah Yocum, and brother Frank Annis.