NELLIE ANNIS BOLING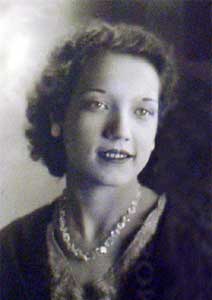 CLASS OF 1933
FEBRUARY 13, 1916 - FEBRUARY 26, 2008
Nellie R. Boling, 92, North Platte, Neb., a native of Osawatomie, died Tuesday, Feb. 26, 2008, in Centennial Park Retirement Village in North Platte.
The daughter of John Leslie and Grace Carkhuff Annis, she was born Feb. 13, 1916, in Osawatomie. She was the second of their five children.
After graduating in 1933 from Osawatomie High School, she completed business school. She and Lawrence Keith Boling were married in 1937 in Olathe. They became the parents of two children. Their son was born in Osawatomie, and their daughter was born in North Platte.
The couple moved to North Platte in 1941 after he began working for the Union Pacific Railroad.
Mrs. Boling was a full-time mother and homemaker until their daughter was in the third grade. At that time she went to work for a shoe store and then eventually Schweser's Department Store. She continued there for 22 years, first as a bookkeeper and then as a department manager.
She emphasized all her life that everyone should serve and love God, their family and their community and exemplified this creed in every way. She valued education, served as a Cub Scout den mother and opened her home to many young people, meetings, social gatherings and family. The Boling home was also opened for several years to Gayle Johnson as he established a new life in North Platte.
Her memberships included the First Baptist Church, which she joined in 1941; Sarah Rebekah Lodge No. 10 where she was a past grand matriarch, Benevolent and Protective Order of Elks Does No. 109, Buffalo Bill Corral of Westerners, Friends of Buffalo Bill, Lincoln County Historical Society and Church Women United.
She loved to travel and learn about other places and people.
Those preceding her in death include her parents, her husband, Lawrence; a son, Larry G. Boling; one sister, Ilah Yocum; three brothers, John Annis, Ray Annis and Frank Annis; and her special friend, Jesse McEvoy.
Survivors include her daughter, Carol J. Boling of Tempe, Ariz.; three grandchildren; and eight great-grandchildren.
Services were Monday in Adams and Swanson Funeral Home in North Platte. Burial was in Floral Lawns Memorial Gardens.
Memorials are to the First Baptist Church or to the donor's choice of charity in care of the funeral home, P.O. Box 489, North Platte, NE 69103-0489.