KEITH ARBOGAST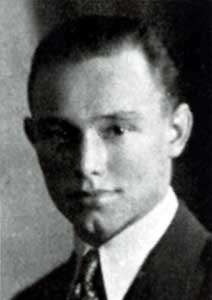 CLASS OF 1931
Keith Delain Arbogast, 2040 Lake View Drive, La Habra, CA died Monday, March 25, 1996 in La Habra.
He was born in 1912 in Osawatomie, KS where he attended school, graduating from Osawatomie High School in 1931. Because of his football playing abilities, he earned a college scholarship.
Later, Mr. Arbogast moved to California where he was employed by 7-Up for 20 years and Sears for 20 years before retiring.
Survivors include his wife, Amy Arbogast, of the home; a son Gary Caley; a daughter, Carol Dunn; five grandchildren; and three great grandchildren.
Burial was Veterans Memorial Park in Riverside.