DOROTHY ALLARD WINGERT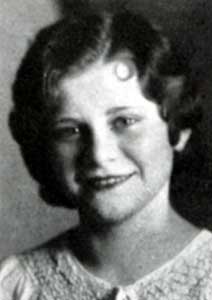 CLASS OF1931
APRIL 21, 1913 - OCTOBER 1, 2001
Dorothy Wingert Wingert , 88, a longtime resident of Albuquerque, died Monday, October 1, 2001.
She is survived by her children, Leslie L. Wingert and wife, Barbara of Albuquerque and Cynthia Patrick and husband, Charles of Huntsville, AR; grandchildren, Donna Leigh Patrick, Jeanie Blincow and husband, Michael, Cheryl Settle and husband, Tim, Mark Allen Wingert and wife, Nancy, Todd Wingert and wife, Jerrie; great-grandchildren, Shawn Settle, Ryan Settle, Kelsey Blincow, Cameron Blincow, Kayla Blincow, Troy Wingert and Tiffany Renea Wingert; and brother, Jerry Allard and wife, Anita of Wichita, KS.
She was preceded in death by her husband of 63 years, F. Keener Wingert; her son, Harold Dean Wingert; and all her siblings.
Mrs. Wingert was born in Kansas City, MO and graduated from Osawatomie High School with the Class of 1931. She worked with her husband, who was the founder of K.W. Auto Parts in Albuquerque, with stores also in El Paso, TX. They were considered leaders and pioneers in the auto parts industry.
Services were held Thursday, October 4, 2001, at Chester T. French Memorial Mausoleum Chapel at Sunset Memorial Park, 924 Menaul Blvd. NE, with Pastor Marsh Shamburger officiating. Entombment followed at Chester T. French Memorial Mausoleum. Pallbearers were Todd Wingert, Mark Wingert, Michael Blincow, Kameron Blincow, Shawn Settle, Ryan Settle, Tim Settle, Troy Wingert and Coda Wingert.