VERNA LYNNE AKIN BARNETT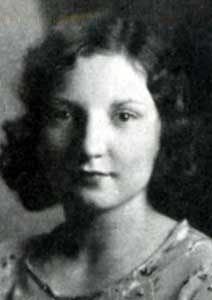 CLASS OF 1931
JULY 31, 1913 - OCTOBER 12, 2010
Verna Lynne Barnett, 97, Osawatomie, died Oct. 12, 2010, at the Life Care Center in Osawatomie.
Verna Lynne was born July 31, 1913, at Neodesha, Kan. She was the only child born to Ira Jonathan Frazier and Lillian Smith Frazier. Her father died when she was 4 years old in an explosion at the Union Tankline Company in Neodesha. When she was nine, her mother married Bert Akin and the family moved to Osawatomie. She graduated from Osawatomie High School in 1931. To further her education, she completed several courses in secretarial training and accounting.
Her first job was as librarian in the Osawatomie Public Library at Fifth and Brown streets. She was later hired by a dress shop owner where she used her talents as a seamstress to make clothes for customers. She then became self-employed and designed and made dresses for her friends and customers.
She was united in marriage to Raymond Howard Barnett on May 7, 1938. They made their home in Osawatomie and became the parents of two children. Mr. Barnett died Nov. 7, 1998, after 60 years of marriage. She continued living at their home at 209 Brown Ave., where they had lived since 1940, until 2006 when she moved to Vintage Park Assisted Living.
She worked for her son, Burk, as a bookkeeper at Burk's Auto Clinic from 1977 through the early 1990s. This was a dream job for Verna Lynne as she thoroughly enjoyed working with figures and alongside her son.
She enjoyed spending her time working on needlepoint, in her flowerbeds, feeding the birds, doing ceramics and genealogy. She also enjoyed playing the piano and organ. She and her daughter, Sharon, spent many happy times playing duets.
She was a member of the First United Methodist Church for 87 years, Women's Service Guild and Women's Society of Christian Service which is now the United Methodist Women, and was a 42-year member of the PEO Chapter DO, all of Osawatomie.
She was preceded in death by her husband.
She is survived by one son, Burk Barnett of Paola, one daughter, Sharon Burgoon, and her husband Gary of Osawatomie; six grandchildren; nine great-grandchildren with one on the way.
Services were Sunday at the First United Methodist Church, Osawatomie, followed by burial in the Osawatomie Cemetery. Arrangements were by Eddy Birchard Funeral Home, 203 Main St., Osawatomie, KS 66064.
Memorials may be made to the First United Methodist Church.