IDA C. ANDERSON PHARES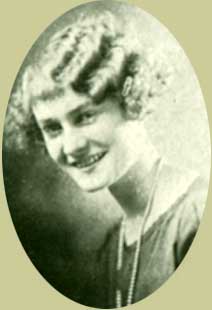 CLASS OF 1925
AUGUST 18, 1906 - MARCH 29, 1982
Services for Ida C. Phares, 114 Brown Ave., Osawatomie, were held Friday in the United Methodist Church. Mrs. Phares died March 29, 1982 in the Olathe Community Hospital. She was 75.
She was born Aug. 18, 1906, in Scandia and her parents were Charles and Eva Jokander Anderson. She moved to Osawatomie with her family in 1916 and attended local schools, graduating from Osawatomie High School with the Class of 1925.
On Feb. 16, 1927, she married Hugh K. Phares in Ottawa. They were parents of one daughter.
Mrs. Phares worked for a number of years as a telephone operator.
She was a member of the United Methodist Church of Osawatomie, serving as church organist for 37 years, and was a member of its Philathea Class and United Methodist Women. Mrs. Phares was also a member of the Royal Neighbors of America.
Preceding her in death were a brother and a sister.
Survivors include her husband, Hugh, of the home; her daughter, Margaret Fox, Overland Park; a sister, Evelyn Adams, St. Charles, Mo.; two brothers, Melvin Anderson, St. Louis, Mo., and Fred Anderson, St. Ann, Mo.; and two grandchildren.
Officiating at the services were the Rev. Eugene Riley and the Rev. Clayton Pittman. Fayebelle Martin played organ selections. Honorary pallbearers were Glenn Ricketts, L. A. Day, Curtis Fox and Clyde Hammond. Active pallbearers were I. H. McMahon, Harold B. Grimes, Raymond Barnett, Larkin Bussell, Howard Barnes and Chester Ward. Burial was in Osawatomie Cemetery.
A memorial has been established in her name to the music fund of the United Methodist Church of Osawatomie.