ERMYL ARBOGAST WILKINSON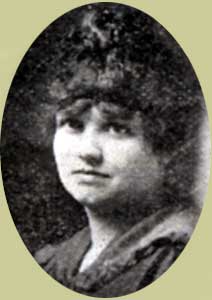 CLASS OF 1918
Wilkinson-- Mrs. Ermyl Frances Wilkinson, a lifelong resident of Osawatomie, died in the University of Kansas Medical Center, Thursday, February 8, 1973 at the age of 72 years.
She was born on January 11, 1901, in Fontana, the daughter of William Cronin and Anna Gertrude Arbogast. She married Fred Vernon Wilkinson on August 27, 1919. He died June 12, 1931.
She attended the Osawatomie schools and graduated in the class of 1918.
Mrs. Wilkinson was a member of the United Methodist church, the Order of the Eastern Star, VFW Auxiliary and the Royal Neighbors.
Survivors include one son, Vernon Ray Wilkinson, Dearborn, Heights, Mich.; three grandchildren; three great grandchildren; a sister, hazel B. Murdock of Huthington, W. Vir., and four brothers, Kenyon Arbogast and Alton Arbogast of Osawatomie, Eugene Arbogast of Paola and Keith Arbogast of West Covina, Calif.
Funeral services were held in the Eddy Funeral Home Sunday at 2 p.m. with the Rev. Clayton Pittman officiating, The music was provided by Mrs. Charles Heckart and Mrs. John Billam, accompanied at the organ by Mrs. Hugh Phares. The pallbeareres were Otto Icenogle, Rollie Pierce, Edgar Mann, Russell Cartwright, Evan Phares and LeRoy Troutman. Burial was in the Osawatomie Cemetery.