GRACE ADAIR HUNT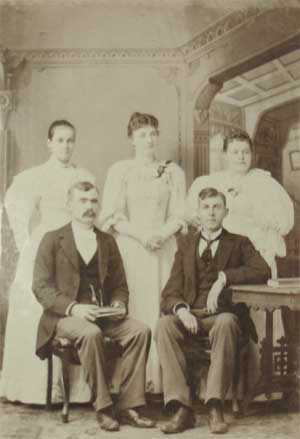 CLASS OF 1894
OCTOBER 5, 1876 - JUNE 30, 1945
Grace Adair, eldest daughter of Charles S. and Mary Gardner Adair, was born in the John Brown cabin on the home farm one mile west of Osawatomie, and grew to young womanhood there.
She attended school here and was a member of the first class to graduate from the Osawatomie High School, completing the high school work in 1894. She then worked in the office of the Remington Lumber company operated by her uncle, J. B. Remington; after ten years there she went to Kansas City, Mo. to the C. J. Carter lumber company where she worked as chief bookkeeper for 37 years, finishing her work there some three years ago.
She gave unfailing devotion and tender care to her aged aunt, Anna Gardner, who preceded her in death just six weeks ago.
Mrs. Hunt passed away at her home on the old homestead in the early morning of June 30, 1945.
The funeral service was held at the Eddy Funeral Home on Tuesday, July 3, with Rev. Max Barnes of the Methodist Church, officiating and Rev. W.C. Burton, pastor of the First Congregational Church of Kansas City, Mo., assisting him. Heaven will be richer for her presence, and earth will long be blessed by the memory of her gracious life.
She was a member of the P.E.O. Sisterhood, the Mercy Hospital League, the Monday Club, and enjoyed the homey work of the Indianapolis Farm Bureau Unit.
Mrs. Hunt was deeply religious, as a small child she was taken to Sunday School and church by her grandfather, the Rev. S.L. Adair, who was the pioneer pastor in this part of the newly settled country. She worked enthusiastically in the Sunday School department of the Congregational Church held in the Old Stone Church which still stands on North Sixth Street in Osawatomie. After going to Kansas City she was affiliated with the Presbyterian Church, later transferring her membership to the First Congregational Church there.
On June 20, 1914, she was married to M. J. Hunt, who, with a brother, Walter B. Adair, of Russelville, Ky., survive her.
Mrs. Hunt was richly endowed with all the gracious attributes of womanhood; patience, sincerity, tolerance and kindness were the ways of her daily life, no word of criticism or condemnation passed her lips, her faith in God was staunch in time of adversity as in time of security.