Doug served as Kansas State Senator from 1988 to 1996. He was Ranking Minority member of Education Committee and Public Health & Welfare Committee and was the Democratic Whip. Prior to his tenure in the senate, he served on the Osawatomie City Council from 1982 to 1986.
In 1984, he and his wife, along with two other couples purchased the Mills House on First Street. They eventually purchased the house outright and moved in in 1988. The Mills House is very much a part of Osawatomie's history. If you grew up there, you undoubedly have a story to tell about "the Old Mill House".
The magnificent house, built in 1902 by William M. Mills, spent many years in decaying condition from not only neglect, but from the devastating effects of Marais de Cygne flooding before the dike was built. The Walkers have spent many years in renovation and consider the house to be approximately 60% restored. The house, which is a George Barber planbook house, is the largest private residence in Miami County and is the only privately owned structure in the county listed on the National Register of Historic places. It has 15 rooms and 9 fireplaces.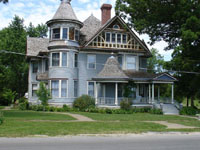 As of 2005, Doug was teaching in the Paola school system.