SAVANAH MARIE SICKLER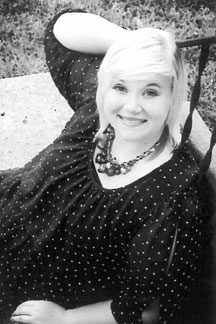 CLASS OF 2015
JUNE 14, 1997 - JANUARY 24, 2017
Savanah Marie Sickler was born on Flag Day June 14, 1997 in Emporia, Kansas to John David Sickler and Holly Lynn (Darner) Kastler. Savanah was her daddy's first Father's Day Gift.
As a child Savanah grew up on the water at Melvern Lake. Savanah could be found in the boat with a fishing pole in her hand, the wind running through her hair, and the water surrounding her. Savanah also spent time on the river behind her Grandpa and Grandma Sickler's house.
Savanah was a lover of animals when she was young and when she was older. She had many pets but she would always have room for one more. Savanah rescued many animals including, but not limited to, turtles, opossums, cats, raccoons, or dogs.
Savanah had many talents, but the gift of her voice, was her biggest. Savanah started singing at a very young age with the OldTime Pickers, Fiddlers, and Singers. She commanded the stage with her smile, her personality, and her voice. Savanah won many junior singing competitions due to her encouragement she received from her Grandma Donna Darner.
Savanah attended school in the Emporia School district until her 7th grade year and was active in Girl Scouts. At the start of her 8th grade year, she began attending school in the Osawatomie School District and graduated with the class of 2015. While attending school, Savanah was very involved in several activities. She began her acting career by helping set up and paint the sets for the high school plays. Savanah was not behind the scenes for long as she performed in musicals, The Wizard of Oz and Shrek. Savanah was not above asking, encouraging, or "persuading" others to join as she had her brother Gage get in on the act.
Savanah's vocal talents enabled her to be a part in the Oz Choir and Singers. She performed in the high school talent shows, community events including the John Brown Jamboree and was a lead vocal for her cousin Tanner's band at Roots Fest. She also enjoyed singing for her friends in the community at banks, holiday events, at local nursing homes, and at the Senior Center.
Savanah was able to continue her love of music by attending Independence Community College where she was sought out by the music program, given a full ride vocal scholarship. While in college Savanah enjoyed singing in three separate choirs and performing for her new audience and sharing her gift as well as her infectious smile.
Savanah loved to be with her friends and make music. One of the things that Savanah was most proud of was when she made her first song and recording. Savanah was asked to sing backup in the song "Make It" by David Heavens. This was one of her most proud accomplishments of her singing career.
The most important person in Savanah's life was her brother Gage. Savanah was very protective of her brother and was always looking out for his best interest. The two of them were inseparable. No one came between the two of them and the love that they shared for each other. Savanah would plan events for the two of them together. They spent time at the lake, cruising the towns, the hills of their childhood, and dining out together at their favorite restaurants. Savanah would always pick up Gage after school, take him to his events, and was always there to make his life better. Even after Savanah went to college, she made special plans for her brother to visit and stay with her in her dorm room. The weekend was filled with laughter, sharing of friends, and love.
Savanah was a person that was always mindful of others and their feelings. Savanah always saw the potential in each person that she met. She was always friendly to those who were in need, always giving of herself, and was one of the best listeners for those she loved.
Savanah will continue to be loved by her parents, John Sickler (Vicki) of Emporia, Kansas, Holly Kastler (Kevin) of Lane, Kansas, best friend and brother Gage Sickler, step brothers Phillip Coats, Austin Coats and Eric Friend, her step sister Sarah Sumpter and husband Kyle, all of Emporia. Her Grandparents Kenneth and Donna Darner of Lane Kansas, Dean and Sharilyn Kastler of South Coffeyville, Oklahoma, George and Karen Sickler, of Neosho Rapids Kansas, and Step-Grandfather Jerome Nuessen of Olpe, Kansas.
Her family and friends were her life and her light. May those not mentioned here know that you all were loved by her and that she will forever be with you now and always.
Visitation: 5-8 pm Friday February 3, 2017 at the Eddy-Birchard Funeral Home.
Service: 10:30 am Saturday February 4, 2017 at the First United Methodist Church of Osawatomie, KS.
Burial at Osawatomie Cemetery.
A memorial fund has been set up at First Option Bank in Savanah's name.
Full obituary to follow.