BRITTANY NICHOLE WHITLEY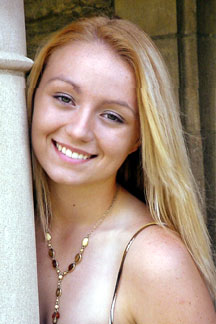 CLASS OF 2012
OCTOBER 21, 1993 - AUGUST 18, 2016
Brittany Nichole Whitley age 22 of Osawatomie, KS died Thursday August 18, 2016.
Brittany was born October 21, 1993 in Portsmouth, Ohio. She is the older of two children born to Harold Ray and Vonda Eileen (Fouts) Whitley.
She grew up and attended school in Osawatomie. In school, she played softball, basketball and was a member of many clubs. Softball was her favorite sport and the position that she played was catcher. In 2011, Brittany was featured in The Best Players in USSA for Fast Pitch Softball. She graduated high school with the Osawatomie Class of 2012.
After high school, she attended Mid-America Nazarene University and majored in kinesiology, study the mechanics of body movements. She was part of the ROTC at Mid- America until she started to play for the MNU Pioneer Softball team. She was the catcher for the MNU softball team.
Brittany was a very artistic person. She loved to draw and she was very crafty. You could always find Brittany reading. She read series like Harry Potter and Twilight. She was an outdoors kind of girl. She loved to fish, check cattle and shoot skeet with her family. Brittany loved animals. She was always saving stray animals of all kinds.
She was preceded in death by her Paternal Grandfather Joseph Harold Whitley.
Brittany is survived by her parents Harold & Vonda Whitley and brother Ryan Whitley of the home, room-mate and friend Alex Zorel of Osawatomie, Paternal Grandmother Carolyn Whitley of Rush, KY. Maternal Grandparents Bill & Patty Fouts of Osawatomie, KS. Aunts & Uncles John & Lorett Carter Crestwood, KY, Scott & Renee Lucas of Greenup, KY, Rick & Donna Courtney of Osawatomie, KS, Cindy Lewis of Osawatomie, KS and Harry & Pam Hall of Newberg, MO. Cousins, Josh Carter & Tyler Church, along with many other family and friends.
Visitation: 6-8 pm Tuesday August 23, 2016 at the Eddy-Birchard Chapel
Service: 10 am Wednesday August 24, 2016 at Cross Point (Assembly of God) Church, Paola, Kansas
Burial: Osawatomie Cemetery, Osawatomie, KS
Memorial: Brittany Whitley Memorial Fund
Send c/o P.O. Box 430
Osawatomie, KS 66064