JOSHUAH D. BARTLETT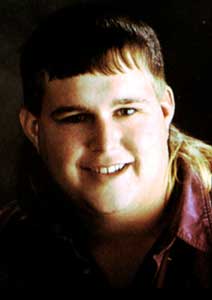 CLASS OF 1993
OCTOBER 3, 1974 - MAY 23, 1993
Services for Joshuah Dean Bartlett, rural Osawatomie, held Thursday in the Osawatomie High School Auditorium. Mr. Bartlett, 18, died Sunday May 23, 1993, in the University of Kansas Medical Center, Kansas City, Kan.. of injuries suffered in a traffic accident May 17.
He was born on Oct. 3, 1974 in Garnett, the son of Jess E. and Katherine Ruth Ellis Bartlett.
He grew up in the Osawatomie area and was a 1993 graduate of the Osawatomie High School. He was active in all sports, especially football and wrestling, and was a member of the Science Club. He had planned to attend college and had earned a scholarship.
His other memberships included the Mound Builders 4-H Club and Miami County Junior Leaders.
Survivors include his father of rural Osawatomie; his mother of Lawrence; his brother Jeremy Bartlett, Osawatomie; his grandparents, Lillian M. Bartlett, Osawatomie; and LaVerne and Mary Ellis, Lane; his great-grandmothers, Mildred Ellis, Lane, and Elsie Hieber, Ottawa; his great-great-grandmother, Opal Buddenhagen, Lane; and a special friend Julie Tyrell.
The Rev. Ted Hunter officiated. Doug Martin Sr. provided the music. Pallbearers were James Prigel, Tony Kline, Jared Minden, Dan Hastings, Ted Bartlett, Ernest Scherman lll, Doug Martin Jr, and Joseph Jennings. Honorary Pallbearers were Steve Folks, Larry Rayl, Elby Magee, Mike Rush, Susan Corner, Tom Macek, Jason Obermeier and Raymond Stifter.
Burial was in Green Valley Cemetery. A memorial has been established in his name for a scholarship.