ERIN WEIR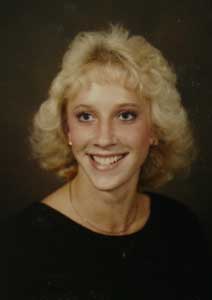 CLASS OF 1987
Erin Elizabeth "Erin Weir" Weir, 50, of Kansas City, Missouri, formerly of Osawatomie passed away Thursday, January 30, 2020, at 1:40 pm.
A Celebration of Life will be held on Saturday, February 29,2020 at 11:00 a.m. at the Arthur Mag Conference Center Auditorium, 4920 Cherry Street, Kansas City, MO, 64110.
Erin was born Wednesday, June 25, 1969, in Kansas City, Mo, the daughter of Robert "Bob" P. and Paula (Bruce) Weir. She was the youngest of their three children. She graduated from Osawatomie High School with the Class of 1987. She graduated from Emporia State University with a Bachelor of Arts in English in 1991, later earned a Paralegal degree.
Survivors include parents Bob and Paula Weir of Osawatomie; Sister Lisa (Kerry) Benton of Katy, TX; Brother Robert "Rob" P. (Shelly) Weir III of Kansas City, MO; Nieces and Nephews, Drew, Amy, Jordan, Nicole and Dylan and Zoe.
Erin worked for MRI Global as a Government Relations Liaison for 19 years. She received multiple awards and was most recently involved in planning the events around MRI's 75th anniversary celebration. Erin was noted for having the ability to pull teams together for positive outcomes when there was a lot of work to accomplish.
Erin kept herself busy being involved in Habitat for Humanity, Literacy KC, numerous Environmental causes, the Young Survivors Coalition Tour de Pink, the Avon Run, Bra Couture, yoga, meditation, reading, book club, travel (Prague, Italy, Greece). She was an avid baker, an aficionado of BBC series (Ms. Marple, Poirot, Vera, Midsomer Mysteries), a dedicated co-worker, a loyal friend, and a loving, involved daughter, sister, aunt, and cousin.
The family suggests memorial contributions to Great Plains SPCA or KCHospice, c/o Dengel & Son Mortuary-Crematory, 605 O'Neal Avenue, Osawatomie, KS 66064. Family and friends are encouraged to post their condolences and memories on Erin's Tribute Wall.