TIFFANIE DIANE LEACH OHMES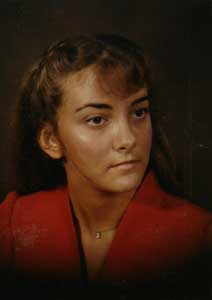 CLASS OF 1987
JULY 10, 1969 - JULY 25, 2016
Tiffanie Diane Leach Ohmes, 47, Osawatomie, died Monday, July 25, 2016, at Villa St. Francis in Olathe, after a courageous and determined battle with cancer. Her adoring family was by her side.
She was the wife of Michael Ohmes and the loving mother of Lisianna Ohmes.
Born July 10, 1969, Tiffanie was the daughter of Marlene Leach of Osawatomie and the late Elwood Leach. She was also preceded in death by her brother Kurtis Leach, an infant sister Michelle Leach and nephew Scott Leach.
Tiffanie is deeply mourned by her brother Bradley Leach (Lori) of Rantoul and her nieces and nephews, Dee Leach, Matthew Leach (Tara), Jessica McMechan, Jeremiah Leach, Misty Leach, Jeffrey Leach, Marlee Leach, Gabrial McMechan, Gavin McMechan, Scott Leach, Austin Leach and Dillon Leach. She also leaves behind many adoring aunts, uncles, cousins and a vast number of close and amazing friends.
Tiffanie wanted all of them to know how grateful she was for their laughter, love and especially for their prayers and support during her illness.
She graduated from Osawatomie High School in the class of 1987 and continued her education at Ottawa University obtaining a bachelor's degree in education, and later a master's degree from Baker University.
In 1997, Tiffanie married the love her life, Michael, and the two of them embarked on an adventure of adopting a child. In 2008, they journeyed to Guatemala and returned home with a beautiful baby girl, Lisianna.
Tiffanie began her teaching career at Faith Baptist Christian School teaching pre-school and kindergarten. She worked at the Osawatomie West School teaching first grade and later teaching reading at Trojan Elementary. During 20-plus years of teaching, she steadfastly demonstrated her dedication and unswerving devotion to all of her students, making each feel they were her priority.
Tiffanie's faith sustained her and was a source of strength. She gladly and willingly gave her time and talent to Faith Baptist Church of Osawatomie. Tiffanie taught the Teen Girls Sunday school class for more than 20 years. Many of Tiffanie's former Sunday school students stayed in touch with her as they progressed in their lives.
Tiffanie was happiest when spending time with her family. Watching her beautiful daughter grow and learn, provided her great joy. Tiffanie leaves a lasting legacy of caring and compassion that will live on through those she leaves behind.
Services were July 29 at Penwell-Gabel Funeral Home, 305 N Pearl, Paola, followed by burial in Osawatomie Cemetery.
Memorials may be made to the Tiffanie Ohmes Memorial Fund. Any contributions will be used to help the following charities: For the Love of Matteo which assists Guatemalan orphanages, the Miami County Cancer Foundation, and the Topeka Kansas Community Fund.