JOSEPH THEODORE 'TED' DAULTON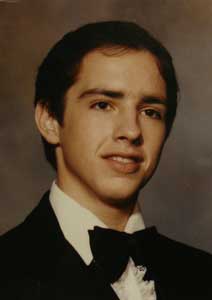 CLASS OF 1987
JANUARY 8, 1968 - DECEMBER 15, 2014
Joseph Theodore "Ted" Daulton age 46 of Osawatomie, KS died Monday December 15, 2014 at Olathe Medical Center of Olathe, KS.
Ted was born January 8, 1968 in Fayetteville, North Carolina. He is the son of Theodore and Betty Joy (Needham) Daulton.
He grew up in Garnett, Kansas and attended 1st through 8th grade at Holy Angels Catholic School. Then after a couple years at Savior of the World Seminary School, he then transferred to Osawatomie High School and graduated in the Class of 1987. He then moved to Emporia to attend Emporia State University and majored in Education with a minor in History. He wanted to be a history teacher. Ted liked to sing and had a great voice. While at Emporia State he sang in a group from the school. He had always had a love for comic books, so while still living in Emporia he opened a comic book store. After a few years he decided to give up the store and move back closer to family.
In 1995, he married Jaqueline Lane and they had two sons Joseph and Gabriel. The marriage soon ended in divorce.
Ted worked for Lansing Correctional Facility as a Guard and then went to work nights as shelf stocker for Wal-Mart. In 2009, Ted's kidney's started to fail and he was forced to stop working.
Ted loved his sons and he introduced them to his love of comic books. When they got older he would take them to comic book conventions in Kansas City. They loved Branson, Missouri and went many times on mini vacations.
Ted is proceeded in death by his father.
He is survived by his mother, Betty Joy Daulton of Garnett. Two son's Joseph Theodore Daulton Jr and Gabriel Logan Daulton, both of Osawatomie, KS.