JEANINE FREEMAN CROWL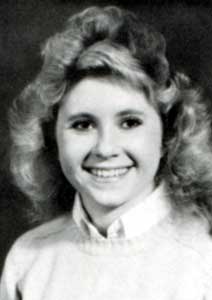 CLASS OF 1986
AUGUST 13, 1968 - MAY 12, 2017
Jeanine G. Crowl, 48, of Topeka, passed away on May 12, 2017 at home with her family by her side.
She was born on August 13, 1968 in Kansas City, Missouri. She moved with her family to Osawatomie, Kansas when she was in elementary school. She was a 1986 graduate of Osawatomie High School and moved to Topeka to attend Washburn University. She graduated from Washburn in 1991 with a Bachelor of Science Degree in Nursing.
She lived her adult life with her husband and two children in Topeka. As a nurse, and as a person, her focus in life was helping others. She was a bright light of love, and she cared for others through action. She loved to water ski and tinker in her yard. She loved to take a walk, and she was easy to talk to. Most of all she loved her children and the pride and joy they gave her every day.
She is survived by her husband, James Crowl; her children, JC and Ayla Crowl; her sister, Janell Freeman; and her niece, Leah Wheeles, all of Topeka. She is also survived by her mother, Donna Freeman; and sisters, Shari Riley and Deanna Miller. She was preceded in death by her father, Charles "Sonny" Freeman. Jeanine's family has been comforted through this devastating loss by James' mother, Cheri Dragoo and her husband, Nile of Beatrice, NE, and father, James Crowl and his wife, Saundra of Osawatomie, KS; his brothers and their wives, aunts and uncles, and numerous family friends, all who knew and loved Jeanine.
A celebration of Jeanine's life will be held at 1:00 pm on Friday, May 19, 2017 at Mount Hope Cemetery & Funeral Chapel, 4700 SW 17th Street, Topeka. Memorial contributions in her honor may be made to the ALS Association, P.O. Box 37022, Boone, IA 50037.
Penwell-Gabel Southwest Chapel is assisting with arrangements.