PAUL BRANSON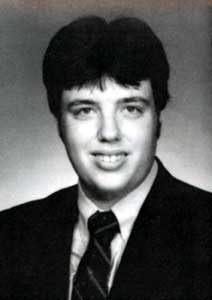 CLASS OF 1985
DECEMBER 14, 1966 - JULY 27, 2014
Paul Branson, 47, presentation editor of the St. Joseph News-Press, died Sunday, July 27, 2014, at his parents' home in Osawatomie. He was there recovering from a serious motorcycle accident when he collapsed. Attempts to revive him by family members and EMTs were unsuccessful.
He was the eldest son of Paul and RoseMary Branson's two children. He married Dr. Joann (Jodi) Beckman Branson in 1993.
Paul was raised in Osawatomie and graduated from Osawatomie High School in 1985. He enjoyed recalling his time working during high school as a printer's devil at East Kansas Offset Inc. in Osawatomie. He went on to earn a bachelor's degree in print journalism and public relations with a minor in biology in 1990 from Kansas State University.
Curiously enough, Paul always said he was drawn to journalism by the smell.
"I was in pre-med at K-State and not liking it much, and one day walked through Kedzie Hall, it smelled like home," he said. "My dad is a longtime newspaperman, and his clothes would smell like ink solvent when he came home from work. Kedzie smelled like that. I knew that's where I needed to be."
He worked first as a reporter at the Osawatomie Graphic from 1990 to 1994, then as news editor for The Anderson County Review in Garnett, Kan., in 1994 and 1995. Both of these career experiences were formative for Paul, as he often reflected on valuable lessons learned in small-town newspapers. He took pride in doing quality work no matter the size of the publication.
From 1995 until 2003, Paul was a writer, a page designer and a lifestyle editor for The Manhattan (Kan.) Mercury, where he redesigned the daily newspaper and won both state and national recognition for his work. He joined the News-Press in 2003, first working as a graphic artist, then stepping into a new role as presentation editor.
Although Paul worked many jobs in newspapers during his career, he was always a storyteller at heart. He had a way with words and an affable personality. The columns he wrote about food, lifestyles and his experiences with family and friends during his time at The Mercury are well remembered. He recently created and was writing a new automotive column for the News-Press called Drive.
Paul loved to travel and explored the country on his motorcycle. He made trips to Colorado, Arkansas, Cape Cod, Washington, D.C., Wisconsin and Canada. In 2011, he made his most adventurous trip: north through Glacier National Park and Canada into Alaska.
He also loved food. Not just eating it — but sharing it. Whether it meant taking a friend to a new restaurant he had discovered or cooking a new dish from a recipe he had found, Paul was a "foodie" before that term became popular.
Paul was known among family, friends and co-workers for his affable personality and giving nature. He was creative, kind and good-humored.
Paul also shared an extreme love for animals with his wife. Before Jodi returned to K-State to earn her doctor in veterinary medicine degree, they became involved with several animal rescue organizations. The couple opened Maple Hill Animal Hospital this spring in Platte City, Mo.
While returning to St. Joseph on his 2002 BMW motorcycle after visiting his parents July 7, Paul was caught in a thunderstorm on Interstate Highway 29 south of the city, hit the guardrail and was thrown from his bike. He sustained several serious injuries and was taken to the University of Kansas Hospital in Kansas City, Kan. He was released a week later and had been recuperating at his parents' house.
Paul Lyndon Branson II is survived by his wife, Jodi; his parents, Paul and RoseMary Branson; his brother, Greg Branson, and sister-in-law Samantha Branson, and his nephew, Garrett, and his niece, Claire.
There will be a rosary at 6 p.m. Thursday followed by a visitation until 9 p.m. at Eddy-Birchard Funeral Home in Osawatomie. The funeral is planned for 11 a.m. Friday morning at St. Philip Neri Catholic Church in Osawatomie.
n lieu of flowers, memorials may be made to the Paul L. Branson Pet Care Memorial Fund at First Option Bank. Proceeds will be used to help people who can't afford vet care through the KSU Foundations' Indigent Pet Care Fund.