CHARLES EUGENE HOLLOMAN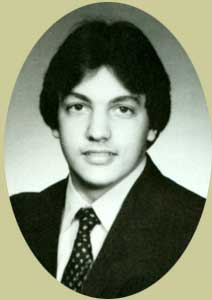 CLASS OF 1984
AUGUST 13, 1966 - APRIL 5, 2008
Charles Eugene Holloman, age 41, of Rantoul, Kansas passed away Saturday, April 5, 2008.
Charles was born August 13, 1966 in Paola, Kansas to Charles Eldon and Mary Ann (Stanley) Holloman. He attended school in Osawatomie graduating from Osawatomie High School with the Class of 1984.
He was married to Angela Caron Dunnivan at Garnett, Kansas on December 29, 1994. They made their home in Rantoul and became the parents of two beautiful children Morgan Anthony born February 21, 1995 and Emily Lauren born February 7, 1996.
Charles was an engraver by trade and worked for Graven Images in Greeley for over 15 years collectively and Universal Engraving in Overland Park for three years. His engraving work won national honors for the companies.
Charles loved doing things with his family. His number one enjoyment in life was the time he spent playing with his kids. He also loved animals of all kinds and was known to slightly spoil the family pets. He loved music and had an exceptional artistic ability as shown by the drawings he had done since childhood. He enjoyed putting models together. He was an avid Mopar fan and enthusiast and belonged to Mopar collector societies.
Charles was preceded in death by his maternal grandparents Jack Stanley and Evelyn Faubel and his paternal grandparents Virgil and Sadie Holloman.
He is survived by his wife Angela and children Morgan and Emily of Rantoul; his parents Charles and Mary Ann Holloman of Greeley; three sisters Beth Prothe of Paola, Barbara Lockwood of Kansas City, and Amanda Sumners of Greeley; his brother Brian Gibson of Paola; his grandmother Kay Stanley of Paola; other relatives and friends.
Funeral services will be held at 10 a.m., Friday, April 11, 2008 at Eddy-Birchard Funeral Home in Osawatomie.
Visitation will be Thursday, April 10 from 6 p.m. to 8 p.m. at the funeral home. Burial will be in the Osawatomie Cemetery. Memorials are to the Charles Eugene Holloman Memorial Fund.