RICHARD BRIAN HAGER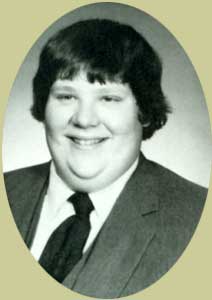 CLASS OF 1984
AUGUST 23, 1966 - MARCH 20, 2009
Richard Brian Hager, 42, Osawatomie, died Friday, March 20, 2009, at Olathe Medical Center.
He was born Aug. 23, 1966, in Knoxville, Iowa, the youngest son of Robert and Dolly Hager. He started school in Olathe and moved to Osawatomie where he was a 1984 graduate of Osawatomie High School.
He worked construction for the Judy Co. before becoming an accountant for the Kerry Group in Gardner where he worked until he became disabled.
He had many friends and a large family who loved him dearly. He will be missed.
From this day forward he walks on strong legs and has a slim, trim body that no longer hurts.
He was preceded in death by a brother, Timothy Hager.
He is survived by his wife Jenifer, of the home; two sons, Richard B. Hager Jr. and Zachary James Hager, also of the home; his parents, Bob and Dolly Hager of Osawatomie, and a brother, Robert L. Hager Jr. of Gardner.
A memorial service will be at 2 p.m. Saturday at Victory Baptist Church, 212 E. Main, Osawatomie.