JULIE ANN WALLACE TAYLOR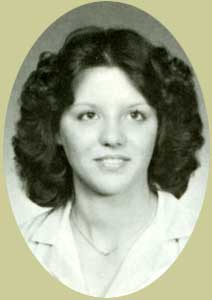 CLASS OF 1982
MAY 29, 1964 - MARCH 15, 2013
Julie Ann (Wallace) Taylor, of Osawatomie, Kansas, passed away March 15, 2013 at her home. She was born May 29, 1964 at the Miami County Hospital, Paola, Kansas. She is the daughter of Oakley James "Jim" and Bonnie (Platz) Wallace. Julie grew up in Osawatomie. Many of her youthful years were spent on the banks of the Maris des Cygne River where mud slides were just too much fun. She graduated from Osawatomie High School with the Class of 1982. She then attended Hays Cosmetology School in Shawnee, Kansas.
Julie was united in marriage to Michael G. Taylor at the Osawatomie Presbyterian Church on January 26, 1985. They made their home in Osawatomie and became the parents of four sons Michael, Logan, Hunter, and Braxton. Mike and Julie added two more sons to their family when they took in Derek Bunce and Alex Cochrane.
Julie's first job began at a young age when she started working for her father as a meat wrapper at The Cow Palace. She worked there through high school. Julie's adult career was as a hair stylist. She owned her own beauty shop in downtown Osawatomie for a time and then built and opened The Outback Hair Salon on their farm so she could work around her boys' sporting activities. She also had worked for a time as a cook at the Elks in Osawatomie and was engaged in a catering business. She was an active partner in their family business of Excavation I, LLC, until her death.
Julie was a very spunky and kind-hearted woman. She was all about helping others. She was an activist for other people with Lyme's Disease and was always willing to visit with them about her experience with the disease. She was chosen by the Cancer Treatment Centers of America to be an advocate for their Patient to Patient Network. CTCA would furnish newly diagnosed cancer patients with Julie's phone number so they could contact her for information about the special treatment at CTCA to all of their patients. She loved getting involved with her sons' extracurricular activities as they were growing up. She was also very instrumental in getting Partner's In Education for USD #367 up and running strong the past several years. You could always find Julie working tirelessly at one of the annual P.I.E. book fairs or carnivals. She was an excellent cook and baker. And she loved, loved, loved to dance especially with her nieces and nephews all around her.
She was a very active member of the United Presbyterian Church of Osawatomie where she was also a member of the United Presbyterian Women's Group.
Julie was preceded in death by her grandparents, one brother Michael Howard Wallace, and a nephew Jess A. Bolling, III.
She is survived by her husband Mike of the home; her parents Jim and Bonnie Wallace of Osawatomie; her sons Michael (Ashley Minden), Logan, Hunter (Tiffany), Braxton, Derek Bunce (Sara), and Alex Cochrane all of Osawatomie; her brother Oakley J. "Jim" Wallace, Jr. (Kelley) of Osawatomie; sisters Jamie (Jesse) Bolling of Osawatomie, Cheryl Wallace of Osawatomie, Tracy (Travis) Broce of Girard, and Deanna "Dee" Hafford (Scott) of Kansas City, Kansas; two grandchildren Conner and Brayden; nieces, nephews, great nieces and great nephews: Cole, Sydney, and Ethan Wallace, Stacy, Brad, Riley, Regan, and Rachel England, Jess Allen Bolling, Brock, Clint, Wendy, and Brynna Graham, Neal Gochenour, Trenton and Tristan Broce; her godmother Jessie Clark; her special friend Maggie Curran; and a host of other relatives and friends.