BRENT AUSTIN ROMMELFANGER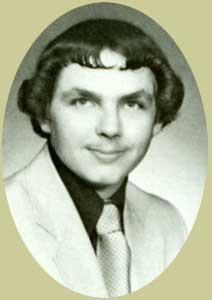 CLASS OF 1982
AUGUST 6, 1964 - MARCH 23, 2014
Brent Austin Rommelfanger age 49, of Osawatomie, Kansas died Sunday, March 23, 2014 at the Miami County Medical Center in Paola, Kansas.
Brent was born August 6, 1964 in Colorado Springs, Colorado. The youngest child of three born to Maurice Austin and Lois Jean (Spears) Rommelfanger.
The family moved to Osawatomie when Brent was five years old, he attended school in the Osawatomie school system from Kindergarten through his high school graduation in 1982. Brent grew up on 5th Street in Osawatomie and was well known in the area. He and the other boys in the neighborhood loving called their selves "The 5th Street Gang"
Brent worked for Midwest Engraving in Paola after graduating high school for about ten years. He then began his own business as a house painter. Bent was a self-employed house painter for over twenty years.
In 1988 Brent and Lora (White) Banfield along with her young son, began a friendship that grew into a twenty-six year commitment and three more children.
rent was an all-around guy, he enjoyed many different kinds of activities that began from child hood. Like playing the trumpet in school, going mushroom and arrow-head hunting with his father and siblings as a child around Greeley, Kansas to custom painting of automobiles. He was an avid K C Chiefs fan and loved NASCAR, Jeff Gordon was his favorite driver. He was quite the pool player and enjoyed shooting a round of pool whenever he could.
Brent loved dogs and seemed to always have one or two. He just lost his favorite "Bear" a Great White Pyrenees who died a few weeks earlier, leaving "Shadow" a black Lab to watch over the family.
Brent was preceded in death by his parents, and his half-brother Danny Ray in 2002.
He is survived by his wife Lora Banfield three sons: Todd Banfield , Micheal Rommelfanger, Dakota Rommelfanger and one daughter Taylor Rommelfanger all of the home. One sister Kathy Orr of Osawtomie, KS and one brother Billy Rommelfanger of Osage Beach, MO. Along with many other family members and friends.
A fundraiser has been set for 6pm - ??? Saturday, March 29th at Memorial Hall, 11th & Main, Osawatomie, to help the family with expenses.
Memorials are to: Brent Rommelfanger Memorial Fund and may be sent in care of Eddy-Birchard Funeral Home P.O. Box 430, Osawatomie, KS 66064