MARK A. SCHULL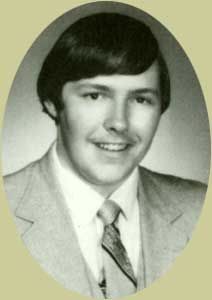 CLASS OF 1981
JANUARY 15, 1963 - JANUARY 20, 2017
Mark Allen Schull age 54 of Osawatomie, KS died Friday January 20, 2017 at the Miami County Medical Center.
Mark was born January 15, 1963 in Paola, Kansas. He was the youngest of five children born to Alvin Gintz & Nellie Mae (Brizindine) Schull. Mark grew up and went to school in Osawatomie. He graduated with the Osawatomie class of 1981.
On January 15, 1985, Mark and Brenda Sue Higginbotham were united in marriage in Miami, Oklahoma. The couple made their home in Osawatomie and together they had two children, Franklin and Danielle. On February 14, 2016, Mark and Brenda renewed their vows at the First Christian Church of Osawatomie.
After high school, he bartended at the Play Mart for a few years. He started working for Paola School district in the maintenance department. Then after 13 years with the school district, Mark quit and went to work for the Department of corrections until he retired this past October. He went back to school to get a degree in criminal justice.
Mark enjoyed model electric trains. He was very sociable and had many friends. He liked to mow lawns and would help anyone who needed it. He loved spending time with his grandbabies. Mark was an avid member of the Elks Lodge in Osawatomie and Ottawa. He was the exulted ruler for the Osawatomie Lodge. He attended church at the First Christian Church of Osawatomie.
Mark was preceded in death by his father.
Survivors include his wife of 32 years Brenda of the home, Son Franklin (Trevor Thompson) Schull of Osawatomie, KS and Daughter Danielle (Sam) Sowell of Fulton, TX, Four grandchildren Callie, Sammy, James and Elizabeth. Mother Nellie Schull- Haufle of Paola, KS. Three Brothers Larry (Joyce) Schull of Parker, KS, David Schull of Florida and Randy Schull of Paola, KS, and sister Beverly (Bill) Nesler of Augusta, KS. Along with other family and friends.
Visitation: 1-2 pm Thursday January 26, 2017 followed by Service: 2 pm all at the Eddy-Birchard Funeral Home
Burial: Stanton Cemetery
Memorial: Mark Schull Memorial Fund
send c/o Eddy-Birchard Funeral Home
P.O. Box 430
Osawatomie, KS 66064