FRANKLIN L. RITCH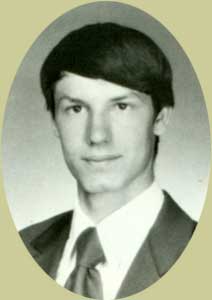 CLASS OF 1981
DECEMBER 15, 1962 - AUGUST 16, 2007
Franklin L. Ritch, age 44, of Baldwin, Kansas, died Thursday, August 16, 2007 at his home.
He was the son of Walker F. Ritch and Alice (Carpenter) Ritch Fry. He was born December 15, 1962 at Ottawa, Kansas. He attended Osawatomie Schools and graduated from Osawatomie High School with the Class of 1981. As a student, he was involved in baseball, track, and cross country.
He loved NASCAR racing and college basketball and was a huge K. U. basketball fan. Before an accident that left him paralyzed, he worked as a heavy equipment operator.
He was preceded in death by his father Frank Ritch and his brother James William Ritch.
He is survived by two daughters Melanie Alvis of Independence, Missouri and Courtney Ritch of Thayer, Kansas; one son Joshua Ritch of California; a step-son Josh McIntier of Thayer, Kansas; his mother Alice Fry of Greenwood, Missouri; three sisters Tanya Ashley of Parker, Kansas Jacque Kreusch of Baldwin, Kansas and Julie Hall of Greenwood, Missouri; two brothers Eric Ritch of Hillsdale, Kansas and Justin Ritch of Osawatomie; two granddaughters Haley and Savannah Alvis of Independence, Missouri; several nieces, nephews, other relatives, and friends.
Graveside services will be held at 11 a.m., Thursday, August 23, 2007 at Osawatomie Cemetery. He will lie in state from 1 - 5 p.m. on Wednesday. Memorials are to the Courtney Ritch Education Fund.