CLARK A. McDOUGAL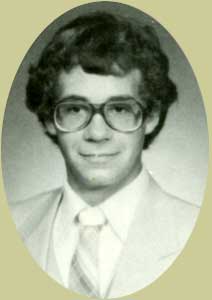 CLASS OF 1981
(From the Osawatomie Graphic, Thursday, June 13, l985)
Services for Mr. McDougal were held Tuesday in Eddy- Birchard Funeral Home.
A lifelong resident of the Beagle community, he was a son of Robert and Kathleen Ellis McDougal. He was born Jan. 21, 1963.
After beginning his schooling in Parker, he transferred to the Osawatomie schools and graduated from Osawatomie High School with the Class of 1981. After graduation, he worked for Taylor Forge for more than a year until the plant cut its work force and he was laid off. At the time of his death, he was a dispatcher for the Miami County Highway Department.
He was a member of the United Methodist Church of Beagle and a former member of the Osawatomie Chapter of the International Order of DeMolays.
In addition to his parents of the home, survivors include a sister, Nina Fae McDougal, of the home; two brothers, David Charles McDougal, Garnett, and Douglas Creed McDougal, of the home; and his grandmothers, Larra McDougal, Paola, and Jessie Ellis, Beagle.
The Rev. Lewis Heiney officiated at the services. Music was provided by Darrell Peckman, accompanied by Beth Hodgson at the organ. Pallbearers were Darrell Post, Dennis Post, Ben Chilcote, Richard Bratton, Phillipp Harold and Robert Van Goethem. Burial was in Quaker Cemetery.
A Clark Allen McDougal Scholarship Fund has been established and donations can be made at the funeral home.