MICHAEL JOSEPH WILSON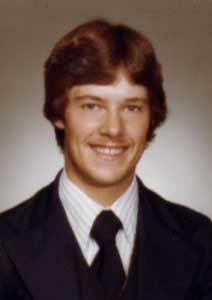 CLASS OF 1980
APRIL 6, 1962 - APRIL 3, 1984
Michael Joseph Wilson, 21, R1, Osawatomie, died Tuesday, April 3, 1984, at the Missouri University Medical Center in Columbia, Mo., from injuries suffered in a car accident on Monday.
The son of Lloyd G. and Rosemary Fenoughty Wilson, he was born in Paola, April 6, 1962. He had lived in Osawatomie all of his life. He graduated from the Osawatomie High School in May, 1980.
Fo the past three years he had worked for the Union Pacific System.
Surviving are his parents, his twin brother, Mark Wilson, his sister, Mrs. Diana Freeman, a brother, Steve Wilson, a nephew, Clint Freeman, and his grandmothers, Mrs. Elsie Wilson and Mrs. Marguerite Fenoughty, all of Osawatomie.
The services were held at 10:30 a.m. Friday at the St. Philip Neri Catholic Church in Osawatomie. The Rev. Denis Pickert of Paola officiated.
Organ selections were provided by Nelle Dollar. Ruth Lombard sand "Sheltered in the Arms of God" and "I Know Who Holds Tomorrow."
The burial was in the Osawtomie Cemetery under the direction of the Eddy-Birchard Funeral Home of Osawatomie.
The active pallbearers were Tom Pfaltzgraff, Chuck Day, Marty Newport, Brad Waggoner, Jody Kern and Kevin Lyle. Honorary bearers were Jay Lucas, Chris Vukas, Mark Hood, Shan Stout, Bart Needham, Gary Williamson, Rodney Madden, Gene Hampson, Dean Hampson, Ron Belt, Daryl Gowing, Raymond Stifter, Denny Brake and Brad Gilchrist.
Memorials may be given in his name to the St. Philip Neri Church or the Osawatomie Recreational Fund.