RENEE KUDER BERRY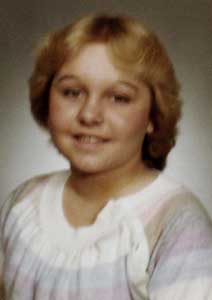 CLASS OF 1980
FEBRUARY 4, 1962 - JANUARY 22, 2000
Renee Lynn Berry, 37, Olathe, died Saturday, Jan. 22, 2000 in Shawnee Mission Medical Center after an extended illness.
The daughter of Kenneth Charles and Martha Dickerson Kuder, she was born Feb. 4, 1962 in Paola. She grew up in Osawatomie, attended local schools and was a 1980 graduate of Osawatomie High School. She attended Kansas State University for two years.
She was employed at Olathe Medical Center until failing health forced her to quit about a year ago. Prior to that time, she was employed at LaHood and Associates in Overland Park and at Anderson County Hospital in Garnett.
She and Michael Jay Berry were married Feb. 17, 1996 in Osawatomie. They made their home in Olathe and became the parents of one son.
Survivors include her husband, Michael, and her son Michael Trent Berry, both of the home; her father, Kenneth Kuder, of Paola; her mother, Martha Kuder, of Osawatomie; a sister, Kendra Thompson, of Joplin, Mo.; her grandmother, Bessie Bird, of Osawatomie; and her step-grandmother, Flossie Kuder of Osawatomie.
Services were Wednesday in Eddy-Birchard Funeral Home in Osawatomie. Pallbearers were Gabe Franklin, Lester Lindsey, Allen Skeens, Jeff Johnson, Jeff Moreland, Eddie Clearwater and Mark Berrens. Burial was in Osawatomie Cemetery.
Memorials can be made to the Michael Trent Berry Trust Fund in care of Edward D. Jones, Box 210, Paola, Kans. 66071.