VIRGINIA 'JENNA' L. DICKINSON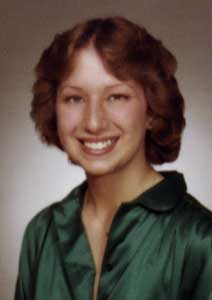 CLASS OF 1980
MARCH 2, 1962 - JANUARY 19, 2017
Virginia "Jenna" L. Dickinson age 54 of Broken Arrow, Oklahoma died Thursday January 19, 2017 in Broken Arrow, OK.
Jenna was born March 2, 1962 in Paola, Kansas. She is the youngest of three born to John A. Dickinson and Evelyn Virginia Smith. She grew up in Osawatomie where she attended school. She graduated with the Osawatomie High School class of 1980.
After high school, Jenna attended Emporia State University and graduated with a Bachelors in Education. She taught for a couple years. Then in August of 1986, Jenna married Jon Duethman in Topeka, Kansas. Together they have three children Stacy, Levi-Jon and Kate-Lynn. The family made their home in South Carolina and Oklahoma.
While her children were in school, Jenna spent most of her time as a stay at home mom. After the kids were out of school, she decided to go back and get her Master's degree. She enrolled in Oklahoma University and double majored in Sociology and Business Administration. She graduated this past year.
Jenna enjoyed going to the theatre. She listened to jazz & blues music and loved to sing. She loved the Green Bay Packers. Her favorite thing of all was spending time with her kids and three grandkids. Jenna was a member of the St. Anne's Catholic Church where she was a youth coordinator. While at Emporia State she was in the Sigma Sigma Sigma sorority and at Oklahoma University she was in the Phi Alpha Honor Society.
She is preceded in death by her dad and older infant brother .
Survivors include children Stacy (Kevin) Walk of Broken Arrow, OK, Levi-Jon (Hannah) Duethman of Glenpool, OK and Kate-Lynn Duethman of Tulsa, OK, three grandchildren Carter, Parker and Ava. Mother Evelyn (Mike) Gabbert of Osawatomie, KS, Brothers Lawrence (Shelly) Dickinson of Osawatomie, KS, Mark (Robin) Gabbert of Olathe, KS, David Gabbert of Branson, MO and Sisters Natasha (Jesse) Sare of Gardner, KS, Gina Gabbert of Paola, KS, Deanna (Danny) Franks of Lane,KS.
She is evermore a song in our hearts and will be missed by her many aunts, uncles, cousins, friends and classmates.
Visitation at 12PM Saturday January 28, 2017
Service at 12:30 PM all at Presbyterian Church in Osawatomie, KS, followed by graveside service at Osawatomie Cemetery.
Memorial: Virginia "Jenna" Dickinson Memorial Fund & The Madonna House at Tulsa Catholic Charities in Virginia's name.
send c/o: Eddy-Birchard Funeral Home
P.O. Box 430
Osawatomie, KS 66064