LAWRENCE WESLEY WILLIAMS, JR.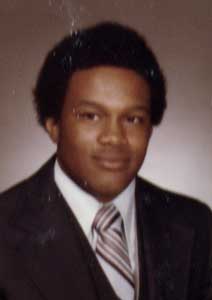 CLASS OF 1979
MAY 16, 1961 - FEBRUARY 22, 2004
Lawrence Wesley Williams Jr., 42, Olathe, a former Paola and Osawatomie resident, died Sunday, Feb. 22, 2004, in the University of Kansas Hospital in Kansas City, Kan.
Known as "Skeeter," he was born May 16, 1961, in Paola. He was the only son of the 10 children of Lawrence Wesley Williams Jr. and Eddie Marie Briggs Williams. He grew up in Osawatomie and was a 1979 graduate of Osawatomie High School.
He attended Coffeyville Community College on a football scholarship and earned an associate degree. While attending college in West Virginia, he began working in youth activities and sports training.
After college, he moved back to Osawatomie and then lived in Paola and Junction City. He had lived in Olathe for the past five years.
He was an avid fisherman and a big fan of sports.
Those preceding him in death were his father, who died July 26, 1998, and three sisters, Vickie M. Shearon, Pamela J. Winton and Gwendolyn D. Williams.
Survivors include his mother, Eddie Marie Cunningham of Olathe; a son, Darron Williams of Osawatomie; and six sisters, April M. Williams of Topeka, Delores A. Smith of Overland Park, Sharon P. Hopson of Dallas, Texas, Marva D. Hopson of Olathe, Ramona L. Robinson of Overland Park and Brenda J. Williams of Kansas City, Mo.
Services were Friday at Eddy-Birchard Funeral Home in Osawatomie. Cremation followed.
Memorials may be made to a fund in his name.