MARK ALAN FRAZEE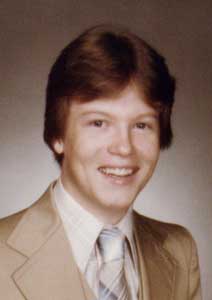 CLASS OF 1979
AUGUST 4, 1961 - DECEMBER 15, 1995
Mark Alan Frazee, 34, Osawatomie, died Friday, Dec. 15, 1995, at his home after an extended illness.
He was born in Paola on Aug. 14, 1961, the fourth of five children born to James Thomas and Joyce Arlene Jones Frazee. They lived in Kansas City for a time, then moved to Osawatomie. He attended the local schools and graduated from Osawatomie High School with the Class of 1979. He then attended Marymount College in Salina, Kans., for a year.
Mark moved to Kansas City, where he worked for a time as an insurance underwriter. He then worked for Saks Fifth Avenue for two years. For the last five years, he had been the manager for MCI Financial Corp. of Lenexa.
Those surviving are his mother and stepfather, Joyce and Charles Bean of Osawatomie; his father, James Thomas Frazee of Overland Park; three sisters, Jaquie Lynn Dozier, Vicki Sue Stadter and Cindy Joann Umbarger, and a brother, Charles Brian Frazee, all of Osawatomie; two stepbrothers, Fred Beckford and James Beckford, and a stepsister, Tanya Frazee, all of Overland Park.
Services were at 1:30 p.m. Monday at the Eddy-Birchard Funeral Home in Osawatomie. Bill Pingry, minister, officiated. Songs were "Wind Beneath My Wings" and "In The Garden."
Cremation followed the services.
Memorials may be made to the Ryan White Foundation.
(from the Miami Republic 12-20-95)