PAMELA EDWARDS ZWICK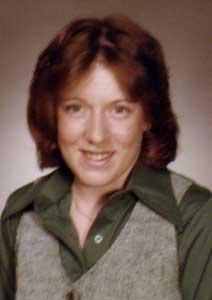 CLASS OF 1979
JUNE 9, 1961 - OCTOBER 22, 2012
Pamela Sue Zwick, age 51, of rural Paola, Kansas, died unexpectedly October 22, 2012 at her home.
Pam was born June 9, 1961 at Paola, Kansas. She was the daughter of Bertie L. Edwards and Frances A. (Black) Edwards Corner. Pam grew up in Osawatomie and graduated from Osawatomie High School with the Class of 1979. She earned her Associate's Degree from Johnson County Community College in 1981.
She was united in marriage to John Kenton Zwick on December 31, 1981 in the First Christian Church at Osawatomie. They made their home at Osawatomie and later moved to their current residence at rural Paola.
Pam had worked part-time for Claude Davis Engraving while in high school and also at the Osawatomie State Hospital. At that time, she was working in the dietary department at the Osawatomie State Hospital. She continued working at the state hospital and in 1995, she received a promotion as a pharmacy technician. In 2006, she began working for SRS located in Osawatomie which is now known as the Department for Children and Families. Her current title was Human Services Assistant.
Pam was a KU basketball and NASCAR sports fanatic. She was a very devoted mother to her children and a very devoted wife to her husband. Family was very important to her. Many years Pam helped with the Osawatomie High School After Prom fund raisers, pulling all-nighters working the after prom parties in an effort to keep the high school students safer. She had also participated in the annual Relay for Life hoping that one day her efforts would help to find a cure for cancer. She volunteered for Christmas in October, helping fix up homes for those in need. Pam was never one to shy away from volunteering for a worthy cause.
Pam was preceded in death by her parents. She is survived by her husband John of the home; her children Nicole and Kenton of Osawatomie, Ryan of the home, Justin of San Diego, and Anthony of Kansas City, Kansas; her sisters Cheryl (Derrick) Smith and Susan (Curtis) Hood; brothers Bert Edwards of Osawatomie and Jeff Edwards of Paola; many other relatives and friends.
Memorial Service: 2 p.m., Saturday, Oct. 27th
Visitation: 1-2 p.m. Saturday at the Osawatomie Penwell-Gabel Chapel
Memorials: Pam Zwick Memorial Fund