ORLAN RICHARD LUCAS, JR.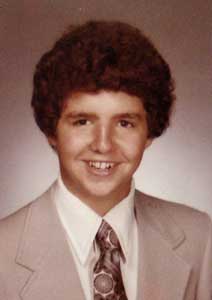 CLASS OF 1978
AUGUST 28, 1960 - MARCH 4, 2006
Orlan Richard Lucas Jr., 45, Wichita, a former Lane area resident, died Saturday, March 4, 2006, at his home.
He was born Aug. 28, 1960, in Denver, Colo., the son of Orlan Richard Lucas Sr. and Ella Bernice Warren Lucas. His family moved to the Lane area in the early 1960s. Mr. Lucas attended school in Osawatomie and graduated in 1978 from Osawatomie High School. He was a member of the high school choir.
After his graduation, he served with the U.S. Marine Corps and was honorably discharged in 1980. His military stint was served in California.
A construction worker, he worked in various areas of the construction industry.
He and Christina Lestari Suryaningrum were married March 20, 2003, in Wichita.
His talents included drawing, painting, writing and music. He was known as being able to master any task in any area be it carpentry, mechanics or song writing and was a patented inventor. He was known for his love for his family and friends.
His father preceded him in death on March 29, 2005.
Survivors include his wife, Christina Lucas of Wichita; his mother of Paola; a brother, Jay Lucas of Osawatomie; and three sisters, Christine Montgomery of Olathe, Debbie Joyce of Overland Park and Connie Stiers of Battlement Mesa, Colo.
A memorial visitation will be from 6 to 7:30 p.m. Friday in Eddy-Birchard Funeral Home in Osawatomie.
Memorials may be made in his name to be used for a local charity.