DAVID BIBENS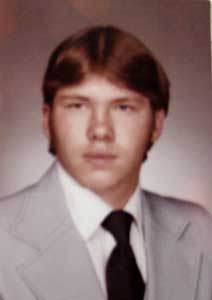 CLASS OF 1978
NOVEMBER 16, 1959 - FEBRUARY 9, 2016
David Wesley "Dave" Bibens age 56 of Osawatomie, died Tuesday February 9, 2016 at his home.
Dave was born on November 16, 1959 in Kansas City, Missouri. He is the older of two boys born to Ronald Glen and Darline Dee (Cunningham) "Pat" Bibens. He grew up in Osawatomie and attended school in the Osawatomie school district.
In high school he was involved with activities such as choir and theatre. Dave played football, he was a wrestler and he participated in track. He graduated with the Osawatomie High School class of 1978.
After high school, Dave worked odds and end jobs. In 2009, he started working at American Eagle in Ottawa, Kansas and he worked in the warehouse. Due to his failing health he had to quit in 2014.
Dave was a fisherman. He fished anytime that he could. His favorite spots were local. The river and Beaver Lake were two he frequently fished. On nice days when he was not fishing he was riding his motorcycle. He would mostly just ride around town but a couple times he rode in Bikers for Babies runs.
Dave is preceded in death by his father Ronnie Bibens.
He is survived by his Son Devin Bibens of Osawatomie, KS and Step daughter Judith (Josh) Hall of Jacksonville, FL. His mother Pat Bibens of Osawatomie, KS and two grandchildren Shawn and Katelynn Lucas.