KENTON L. RATZLAFF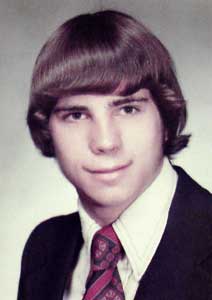 CLASS OF 1977
JUNE 1, 1959 - JULY 22, 2010
Memorial Services for Kenton L. Ratzlaff, 51, of Fairview will be held at 3:00 PM Sunday July 25, 2010 at the Fairview City Auditorium with the Reverend Arnold Curby officiating. There will be a Private Family Burial in the Saron Mennonite Cemetery under the direction of the Nichols Funeral Home & Cremation Services of Fairview.
Kenton L. Ratzlaff was born on June 1, 1959 in Newton, Kansas to Arlin Dee and Janora May Becker Ratzlaff. He departed this life on July 22, 2010 in Pine Bluff, Arkansas.
Kenton graduated from the Osawatomie High School in Osawatomie, Kansas. He was united in marriage to Shelly Kessinger in Fairview on December 1, 1992. He worked as a Project Manager for Ewbank Geo in Fairview. He was a loving husband and father, a jack-of-all-trades and master of many. He loved people, especially those around him, his wife, his sons, his granddaughter, his family, and those he worked with. He put his heart into everything he did. A measure of love is what you are willing to do for those you love. Kenton would go to great lengths, literally traveling across the country, to be with his wife, his sons, his family, and on the jobsite, seemingly two places at once. He was a man who greatly loved many, and was loved and will be missed by many.
Kenton will be missed by his wife Shelly of the home, his sons Dustin Lee Ratzlaff of Ft. Worth, Texas, Chase D Ratzlaff of Ringwood, Bricen Kessinger of Weatherford, and Tyler Kessinger of Marlow, one granddaughter Kimber Kessinger, his parents Arlin and Janora Ratzlaff of Newton, Kansas, one brother Jay Ratzlaff, one sister Ann Hiebert and a host of other relatives and friends.
Memorials can be made in Kenton's name to the Charity of the Donor's Choice.
Remembrances may be shared with the Ratzlaff Family by signing the online guestbook at www.nicholsfuneral.com.