BOBBI MCQUAY SHARP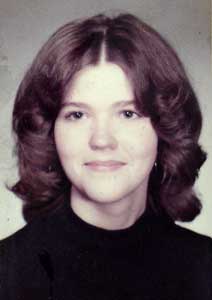 CLASS OF 1977
FBRUARY 16, 1959 - JUNE 29, 2002
Bobbi McQuay Sharp, 43, Osawatomie, died Saturday, June 29, 2002, in Olathe Medical Center.
She was born Feb. 16, 1959 in Paola, the daughter of Bob and Marie DeVore McQuay. She attended high school in Osawatomie and graduated in 1977.
She and Bruce Sharp were married July 22, 1986, in Miami, Okla.
Mrs. Sharp worked for 15 years as a mental health technician at Osawatomie State Hospital. Her last employment was with Wal-Mart Distribution Center in Ottawa before retiring due to failing health.
She was a member of Osawatomie Assembly of God and attended Paola Assenbly of God.
She enjoyed reading, gardening and spending time with her children and family.
Survivors include her husband, Bruce Sharp, and two children, Matthew and Kristen, all of the home in Osawatomie; her parents, Bob and Marie DeVore McQuay of Osawatomie; and a brother, Sherman Laas of Smithville, MO.
Services were Wednesday in the Paola Assembly of God. Burial was in Miami Memorial Gardens north of Osawatomie. Arrangements were under the direction of Wilson and Son Funeral Home in Paola.
Memorials may be made to the American Cancer Society.